SeanHoppe.com › EXTOL EDI Examples › Writing/Developing EXTOL TPMC Exit Point Program
Writing/Developing your first EXTOL TPMC Exit Point Program
EXTOL EDI Integrator supplies various trading partner message class (TPMC) exit points. CLICK HERE to see examples of these programs. If these programs are not sufficient for your needs then we need to start thinking about developing a new EXTOL TPMC Exit Point.
Background of EXTOL Exit Point Program
In the example below we will call an exit point program each time an inbound 850 is received from Lowes. The program would be executed after the records are written out.

Description from EXTOL Help Documentation
EXTOL EDI Integrator (EEI) allows user exits to be specified at the trading partner message class level and triggered by each document at the occurrence of any or all of 11 different events. The records are specified as various combinations of trading partner, group code, message id and message class, with the special value of *all permitted in any combination of these four fields. This allows "exception-based" specifications of the actions to be performed.
Create TPMC Exit Program Entry
Below, enter in a unique sequence number, Trading Partner code, Group Code, Message ID, Message class, and Msg Event.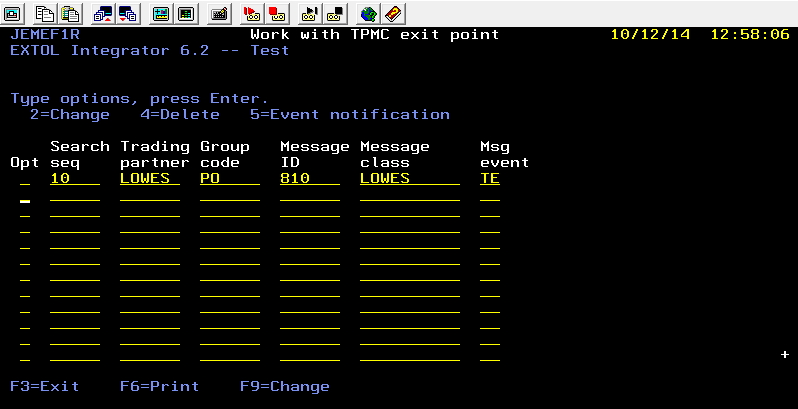 A code representing a processing event (for example, "Translation end") at which it is desired to execute a user-supplied program or command.
AL          Ack marked late/not late  VAL                              
AR          Acknowledgement received  VAL                              
AS          Acknowledgement sent      VAL                              
CA          Crt msg log - CRTAPPDTA   VAL                              
CU          Crt msg log - unwrap      VAL                              
EL          Envelope logs assigned    VAL                              
RD          Ready to delete           VAL                              
ST          Schedule for translate    VAL                              
SN          Sent/Send attempted       VAL                              
TE          Translation end           VAL                              
WR          Wrapped (ready to send)   VAL                              

Update TPMC Exit Point Program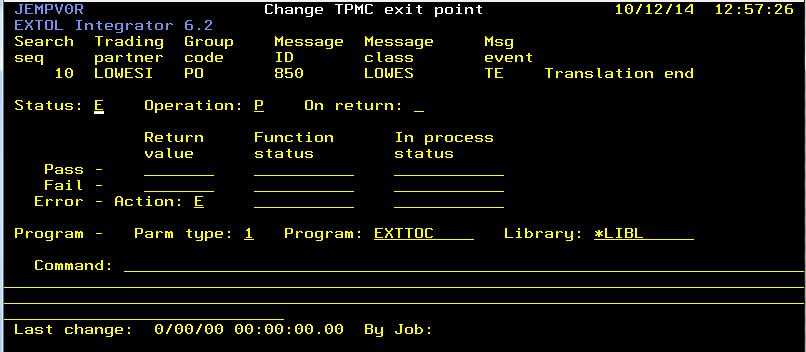 Enter the following fields
Status: E
Operation: P
Error-Action: E
Parm Type: 1
Program: user value
Library: user value
Sample DUMPEXIT RPG PGM
For programming examples, we recommend EXTSYS/QRPGSRC/DUMPEXIT. PGM: DUMPEXIT is the long parm list and supplies users with the most information needed.
All programming can begin on line 240. Below is the sample coding from PGM: DUMPEXIT

240.00      C           ICOUNT    IFLT 1                                     
241.00       * Obtain limiting count for dump                                
242.00      C                     Z-ADD1         UDDLMT  30       dump 
243.00      C           *NAMVAR   DEFN EXDMPLMT  UDDLMI  30                  
244.00      C                     IN   UDDLMI                 91             
245.00      C  N91                Z-ADDUDDLMI    UDDLMT           dump 
246.00      C                     MOVE '0'       *IN91                
247.00      C                     END                                        
248.00       *                                                               
249.00       *                                                               







By: Sean Hoppe on